Our trip, planned around interesting-sounding places, led us once more to even more interesting encounters with people. We received warm welcomes from almost everyone we met, in all the places we visited. The people, I think, were the highlight of our trip to Turkey.
We landed in Istanbul on the 1st of July 2009, and were caught in the flurry of people heading towards the trolleys, 2 lira coins in hand (we learned that the euro coins worked as well). As soon as this was done, we headed out of the airport, were hustled into a reserved taxi, packed in like sardines- the four of us with our eight bags and four backpacks along with two other travellers and all their bags - and finally released at the doorstep of Hotel Kupeli in Sultanhamet (the old part of Istanbul).
Our hotel was functional, comfortable, well located - ten to fifteen minutes away form the main touristy area and tram line, on a relatively quiet road. We spent the first evening getting acquainted with our surroundings, exchanging money, activating our cell phone and sniffing out potential dinner options. We finally succumbed to the friendly persuasion of a lanky young waiter who stood at the corner of our hotel road, cheerfully flagging down all tourists. Didn't regret the decision one bit, though we were tucked onto a table balanced on a narrow pavement and joined midway by one of the numerous alley cats. The food was excellently made and served with distinct pride and delight (this was something we encountered in many parts of Turkey and it was quite heart warming).
We spent our next day and a half wandering around Sultanahmet, visiting the ancient Aya Sofya (originally Santa Sophia- the church of the Divine Wisdom, built in the 6th century AD, converted into a mosque in the 15th century and to a heritage monument in the 20th century by Ataturk) with its magnificent, original mosaics and architectural motifs still intact. We saw the impressive Blue Mosque with its beautifully proportioned exterior and exquisitely decorated interior. From here the path led naturally down to the Arasta Bazaar, where we sat amidst the shopkeepers and ate a pleasant lunch of kofte, stewed beans, salad and bread, and watched the locals having their staple lunch of bread, salad and watermelon. Later, we saw the dervishes whirl, walked in the extensive, well-laid out Grand Bazaar, bought an Anatolian carpet and the most delicious fresh figs, and before we knew it, our time in Istanbul was over.
We left for the airport, just missing rush hour traffic and after several hours of flight delays, found ourselves seated in the comfortable Turkish Airlines plane, heading north by north east, to Erzurum. We chomped on sour cherry cake, gulped down sour cherry juice (Raghavan) and fresh buttermilk (me) and looked out on to the setting sun.
We landed after dark in the crisp, cool night, at an elevation of about 6500 feet. Pulled out our jackets, collected our little strolleys which were packed with a small subset of our belongings for this week's trip (Uma's was the heaviest and Raghavan's the lightest..) Took a taxi into the centre of town, where our hotel stood- Hotel Dilaver- an old, creaky, comfortable business hotel in the centre of town. Our room looked out on to a hillside, which, as were gazing at it, burst suddenly into an arc of fireworks. A magical welcome.
Our bathroom pipes had an air lock and our T.V. and telephone didn't work, but there were no really major hiccups. The air was fresh and cool, the beds comfortable and we fell soundly asleep only to be awakened by the muezzin's highly amplified call at 4.30 a.m.
A large and tasty breakfast awaited us at the rooftop dining hall. The visiting German tour group was excitedly heading out to the terrace, plates in hand, while local businessmen were placidly seated close to the food indoors, eating, sipping Turkish tea and smoking cigarettes with apparent satisfaction. We compromised by sitting indoors, close to the windows and gazing out. The day was crisp and clear and we decided to rent a car and explore the valleys and abandoned Georgian monasteries that dotted the landscape. Realized fairly soon that the only receptionist who could speak English was on the night shift and no one in any of the car rental offices could understand a word of English.
Were immensely grateful to Ataturk's reforms, which led to the replacement of the Arabic script with the Roman, enabling us to read the maps and road signs. Raghavan somehow managed to rent a car, fill it up with petrol, find a guide who led us to the outskirts and off we went along Highway 950, towards Öşkvank to see the huge, abandoned 10th century cathedral (which we took half an hour to find; should have had the sense to just follow the German tour coach). We then drove along small village roads with much of the population staring at us as we went by, onwards to Haho to see a 10th century monastery complex. The scene around us changed gradually from green hilly meadows to bare, stark mountains and valleys, rising and falling abruptly from the roadside. We drove along Tortum Golu (Lake Tortum) – a long, muddy-brown lake with high mountains and deep gorges carved on both sides of its shore. Stopped at the only roadside restaurant we saw, on the lake's edge, where we had the only food they served- freshly caught river trout fried a crisp brown, bread, a salad of fresh greens and mulberries that they shook off one of the trees.
We returned on a parallel road, driving to Oltu to see the kalesi (citadel) that rose along the western edge of the city. Raghavan and I climbed up to the gates (which were locked) while Papa and Uma tucked into some local chocolate ice cream and lemon ice cream at the foot of the citadel.
Drove back to Erzurum, via the bus station, to get tickets for our onward journey to south- eastern Turkey. This was an unforgettable experience as we were surrounded by touts within seconds of our arrival at the station. I insisted on stopping at a police cell, but it was not much use as the police couldn't speak English either and finally after randomly narrowing the choice to a specific 'agent', we followed him to one of the innumerable private bus counters. After much conversation, most of it unfathomable, we were handed 4 tickets. We returned in exhausted silence punctuated by irritable comments by me (I confess, I was at my unsatvic worst).
A quick wash and a few moments later I was in better spirits as we all trooped out to Meram Cağ Kebap- the recommended restaurant which served the special kebaps that Erzurum is famous for. As if this were not enough, after dinner we struggled down to the helva shop and bought a bag full of helva (Turkish delights)- filled with walnuts, topped with sesame- and chewed the night away.
The next day was grey and cloudy and as we set out from the hotel, it began to rain. We ran towards our destination- the beautiful Seljuk mosque, the Ulu Cami (Great Mosque). While we were waiting at the doorstep, wondering where to leave our shoes, we encountered Noorie- a Lonely Planet mountain guide who had spent some time in India, and who offered to show us around the place. He showed us where to keep our footwear, requested Uma and me to wear scarves and then introduced us to a venerable old man who was in charge of the upkeep of the mosque. This dignified elderly man explained in great detail the architectural style and principles of acoustics and optics and astronomy which went into designing this mosque. Noorie was a willing translator. Erzurum has a number of Seljuk buildings that are typically simple, extremely elegant structures in stone.
After our visit to the mosque, we wandered down to the carpet shop owned by Noorie and his partner (a large man with the appearance of a pleasantly disposed wrestler). Over glasses of fruit tea, we viewed and finally selected two small carpets in deep red cotton and wool full of little woven animals. We walked back to the hotel and ate lunch in a self service restaurant that had a long counter filled with large steel containers of food. This was probably the only time we didn't order freshly cooked food, and we certainly paid for it. Raghavan began burping at an alarming rate and Papa developed a severe stomach upset that lasted the next five days and which resulted, amongst other things, in our seeing many more petrol pumps and a few more mosques than we had intended to. (Uma and I were perfectly fine).
In the evening we strolled around the town, taking in the old clock tower and several other mosques. Returned to Noorie's shop where he was to be found playing some board game, to take up his offer of being introduced to some jewellers. Erzurum is also famous for its dark greenish-black amber called jet or oltutaşi, which is very soft when present underground but hardens on contact with air. It is carved, set in silver and made into very lovely jewellery. Uma and I bought some (needless to say) and then we returned to Noorie's shop to dig into the best baklava in town, as he claimed. It was no mean claim and we finished a kilo of baklava between all of us. The wrestler-carpet selling partner vanished to return with about ten bottles of mineral water, of which we gratefully accepted two. Then after a few more exchanges, which included Papa's humming the song Noorie from the Hindi film of the same name and Noorie's extending an invitation to Raghavan to return and stay with him and his family and ski on his brother's resort (Erzurum has one of the best ski resorts in the region and the city is currently gearing up for the International University contest to be held in 2010), we took leave of them.
We returned to the hotel in the late evening and swore that we couldn't eat much. We went out soon after to get a quick bite, stopped at a shop whose display windows were full of bee hives and jars of honey. We entered to enquire and had an incredible conversation with the strapping, middle aged man there who flapped his arms and made other suitable signs to explain that he was the premier bee-keeper and honey supplier of the area. I enquired about the bright yellow powdery dots stored in glass jars on the shelves and he explained that it was pollen, it was very good for the stomach when drunk along with honey. (The entire conversation was conducted in Turkish). He then filled a kettle with water, lit up a small stove kept on the floor and set out 4 glasses for us. He filled each glass about a quarter full with thick honey, added a spoonful of pollen, stirred it with a wooden stick, poured in hot water to make a thick, bright yellow drink. We glugged it down; it was tasty- and filling. I ended up buying large amounts of honey and pollen and then we proceeded to look for restaurants listed in the Lonely Planet. Before we realized it, our feet (and stomachs) led us back to Meram Cağ Kebaps, and we promptly settled ourselves there and prepared for our last evening of gluttony (in Erzurum).
Suddenly we heard a voice close to us, speaking in Hindi. We turned to see a small, rotund man who introduced himself as the Registrar of Tabriz University (Iran), currently visiting Turkey with his family. He had apparently studied in India and was obviously delighted to meet Indians, especially a University professor from India. He talked about his student days, enquired about the possibilities of programmes in IISc for visiting students and then with a little bow told us that his car would be at our disposal. We thanked him and said that we were leaving early the following morning. Cards and invitations were exchanged, goodbyes said. His wife gave a very pleasant smile and nod and his two young daughters giggled away continuously. We waved goodbye and then resumed our dinner, under the pleased and watchful eye of the waiter. It was a fitting end to a day filled with unexpected encounters and pleasant surprises.
The next morning we were ready by 6.30 a.m. Gulped down our breakfast, packing away some food for Papa whose stomach upset had reached dreadful proportions. Experienced our usual morning taxi-blues, and almost ran out of time before a driver materialized (after loud and prolonged whistling by the hotel doorman at our insistence). We proceeded steadily to the bus station, stopping at a large number of traffic lights on the way. As soon as we reached, I jumped out with my bag and ran off to locate our bus. Raghavan, Papa and Uma collected the remaining bags and paid off the driver. I returned to find that Raghavan had vanished in a completely different direction. Finally we were reunited and managed to make it to the bus in the nick of time. Luckily the tickets were numbered and we had good seats, towards the front, below the openable hatch of the roof. The seats were comfortable, but the windows were sealed and the A.C. didn't function much of the time. Our fellow passengers were a variety of locals- many elderly men, an old priest, a few women with children in tow and a sprinkling of young men. People were extremely quiet and courteous and the journey from the hills to the dry plains began uneventfully. It picked up momentum along the way as the bus driver had apparently left two passengers in Erzurum (after waiting for them for ten minutes) and he began to have a heated exchange with his bosses, using two cellphones and almost no hands to steer the bus. To make matters somewhat more disturbing (especially for Uma who had a bird's eye view of the driver and the road), we were delayed as a large van had bounced off the road and lay completely smashed in the gorge below. In addition, Papa was in a state of mental and physical anguish as the bus didn't stop anywhere for the first four hours, except to drop and collect passengers. All in all a trying trip, but interesting nevertheless, especially to see the changing scenery and changing composition of the passengers. The hardy, fair complexioned mountain people were replaced by heavily wrapped or veiled Kurdish travellers, clicking their beads or talking softly to each other.
After seven and a half hours (including a brief lunch stop) we reached the ancient city of Diyarbakir, surrounded by five and a half kilometers of towering basalt walls (the second in length after the Great Wall). We reached our hotel- Otel Büyük Kervensaray- a 16th century caravanserai converted into a hotel. It used to house 500 camels and their keepers and now comprises of charming little stone bedrooms around a large, tree-filled open courtyard where meals are served and a huge, clean, sparkling blue swimming pool at the back.
It was a wonderful place to stay, with plenty of old-world atmosphere. There was a huge spread for breakfast each morning - fresh plums, cherries, apricots, slices of watermelon and melon and other fruit (Diyarbakir is well-known for its watermelons which can grow up to 50 kg. in weight), small and tender fresh, raw greens including large bowlfuls of mint and purple basil, three kinds of local bread- fresh and warm still, four kinds of olives, six kinds of peynir (paneer-like cheese), hard boiled eggs coated in spices, slices of roasted eggplant, a large bowl of curd, honey, two kinds of fresh fruit in syrupy preserves, a thick liquid paste of ground sesame and honey, various hot dishes- boiled country eggs in their speckled brown shells, fresh potato chips, a local sausage, peynir cooked in a tangy sauce of fresh tomatoes and pale green peppers, a large pot of şorba (a delicious soup made of lentils, spices and stock), tea, coffee, juice and iced water (very welcome in the dry heat). The breakfast tables would be set in the freshly washed courtyard, with the stone fountain in the backdrop and the ancient gardener doing the rounds, weeding and watering. A lot of sparrows, swallows and other tiny birds would be chirping or flying around.
Here we met the very pleasant, quiet receptionist who handled our valuables (sealed in an envelope) in an open drawer on the basis of trust, the Rough Lonely Planet tour guide, Mehmet (aka Montana) who persistently tried to sell us his tour trips and kilims (traditional woven rugs) - he ran a kilim and carpet shop in the hotel. We also came across the fish sellers just outside the hotel, with their tubs of live fish, who enquired about fish prices in our cities, olive sellers who warned us against pickpockets and the local fruit seller who refused to sell us anything that was not in perfectly prime condition.
We spent a day walking around, exploring the city- its mosques (the Ottoman structures were not as nice as the Seljuk ones we had seen in Erzurum), the ancient Syrian church that housed parts from a 4th century Byzantine sun temple and the markets- selling clothes, textiles, jewellery and all kinds of food. We walked down narrow lanes lined by traditional houses, past veiled women and groups of children engaged in apricot seed fights to the bigger, traffic filled roads that led to the ancient walls and kapis (gates) (including a 'Hindi Baba' kapi).
We lunched everyday on fresh bread, olives, cheese and the luscious Mediterranean summer fruit. We dined, the first day in a small local roadside place, where tables were rapidly cleared by the owner's family who were eating there and places set for us. The next day we went to Selim Amca'nin Sofra Salonu, a somewhat upscale restaurant (the first place we encountered where none of the women donned scarves) and feasted on the only dishes they prepared- baked mutton stuffed with spiced rice and nuts, served with a kind of mild potato raita, a salad of arugula and spring onion leaves in vinegar and followed by Irmik helvasi and hot Turkish tea.
The next morning, after a relaxed breakfast we drove off in the compact Avis car that was delivered to our hotel- out from the Mardin kapi towards the charming honey coloured city of Mardin- carved on a hillside from yellowish sandstone-like rock. We spent much of the day there, strolling along the main road, looking at old mosques, the bustling old market and the beautiful 17th century caravanserai which now functions as a post office.
In the evening we hit the road again, moving on to the tiny hill town of Savur that rose above miles of fields, orchards and deserted areas of land. All of a sudden we were in completely different surroundings- walking up to an ancient house on an isolated hilltop surrounded by nothing but hills all around. This was the home of the distinguished Ozturk family, now being let out to guests. The family was very hospitable and welcoming especially the old lady (very houseproud and accomplished in embroidery and cooking) who was the head of the family and her two daughters in law, Shehnaz and Ayeshe, who did most of the work in the house and took care of us. Huge, wholesome, home-cooked breakfasts and dinners were served to us, and in between meals there were glasses of Turkish tea and excellent Turkish coffee. There were no sounds other than that of the wind and the birds. The sky was a clear blue during the day, flaming to an orangey pink in the evening, gently darkening and then glittering with stars at night. Many hours were happily spent up on the rooftop or sitting on the terrace at tea time or dinner time, eating under the starlit sky.
During the day we drove out to the Tigris river, on the banks of which lay Hasankeyf – a village set in and around rocky caves, with ruins of a mosque and a citadel scattered around. We were stopped by an army post on the way, which politely asked for identification and waved us on. We realized then that we were quite close to the borders with Iraq and Syria.
After walking around amidst the rocks in Hasankeyf, we vetoed the Lonely Planet suggestion of fish at the Tigris, stopped instead for an impromptu lunch after spotting a tiny bakery. The baker gave us unlimited, free bread and his friends rushed out to pull up some chairs and a table for us. We brought out our omnipresent olive packet, bought some peaches and cherries and had a very good meal by the roadside.
We then turned back towards Savur, stopping at Morgabriel on the way. This is a large, 4th century (now restored) Syrian Christian monastery where St. Gabriel is buried. It is a huge and beautiful monastery that is surrounded only by rocks and small hillocks that stretch for miles all round. We also stopped briefly at Midyat where a young boy proudly guided us to the various churches on his bicycle while we drove slowly behind. After visiting one church we decided to call it a day, as it was very hot and Papa was exhausted.
It was our last evening in Savur and we all spent it in different ways: Papa and Uma sat on the roof top, Raghavan went down to the internet café and I watched the women cooking (acted as official food-taster) and chatted with them on an incredible range of subjects using a Turkish-English dictionary.
We had our dinner sitting under the stars and lingering over the home-made şorba, bulgur, stir-fried greens, mixed greens (raw) with walnuts and lime, cucumber and tomato salad with plenty of lime, olive oil and pepper, steamed samosa-like dumplings, choux pastry filled with chocolate cream and topped with chocolate sauce and local red wine. It was a wonderfully relaxing and satisfying experience.
The next morning we took leave of the family; the women waved continuously to us from the top windows till we were out of sight. We drove down narrow roads, trying to reach the bypass to Diyarbakir but somehow didn't make it. Stopped at villages to ask the way and got invited time and again to tea at people's houses. We passed beautiful countryside, with hills and then miles of golden fields of harvested wheat. Gradually the area seemed more and more deserted, the road just a stretch of stones and mud. Hoping that we would come across some signs of a real road before our tyres gave way, we suddenly found ourselves trailing a car, whose driver stopped and flagged us down thinking (rightly) that we were unsure of the way. He gave us directions to the highway, saying that he was turning off the road soon, and so we went continued along the unending track in isolation.
Eventually we hit the highway and suddenly a man loomed into our view from nowhere. He wanted to be dropped off at the next village. We obliged and thus made our acquaintance with a fierce-looking peasant covered with mud and hay who clicked his prayer beads continuously and informed us in a loud voice that he was Kurdish, living in Kurdistan. Papa and Uma were quite perturbed, I was mildly amused and Raghavan was unfazed. We dropped him 10 km. further down, opposite a garage. He invited us repeatedly to tea, but we declined as we had to head back and return our car.
We reached Mardin kapi with a sense of homecoming and were soon back at our hotel in Diyarbakir. After our usual lunch, rest and swim, we headed to Uma's favourite haunt – the bazaar, where Uma bought some embroidered bedcovers and I bought a pair of earrings made of strips of woven gold that came from Trabzon (near the Black Sea).
We ate at our hotel on our last night in Diyarbakir. The courtyard glowed with little yellow lights, the fountains splashed behind us and Mehmet's attractively displayed kilims stretched out on one side. Our laid back waiter took another of his customary strolls round the large courtyard and paused for a while to switch on some beautiful Turkish folk music, before returning to bring us the menus. The only other diners were seated in a far corner downing glasses of raki and feeling very pleased with the world in general. We tucked into our delicious dinner silently and efficiently.
The next morning we awoke early and on finishing our breakfast, raced to Mehmet's shop to buy a kilim he had been long persuading us to consider. We then said hurried goodbyes and rushed into the most relaxed taxi on the street. It took the ancient driver a few moments of fumbling in his pocket before he found the key, then we drove straight to the nearest petrol pump to fill up the car, and eventually made our way leisurely to the airport, the driver periodically looking back to glance at Uma and make a particularly pertinent point in the continuous conversation he was carrying on with us in Turkish. Finally we reached the airport where I discovered that I had carried the giant 2 kg. hotel key with me. Fortunately the airport police offered to return it to the hotel.
We returned to Istanbul, to our old haunt where the receptionists were waiting for us with 4 large bowls of complimentary rice pudding. It was covered with nuts and a thick layer of powdered cinnamon and was delicious. Our suitcases had already been moved from the storage area to our rooms and we entered our rooms and collapsed on the beds in relief, doing nothing for a while.
An evening tram ride took us to the Spice Bazaar and the neighbouring areas where we saw a beautiful mosque and a couple of 200 year old shops – Haci Bekir (from where we bought walnut baklava, the man behind the counter came from Erzurum and insisted on giving us all a free round of baklava) and Hafiz Mustafa (where we bought pista lokum and where the ancient owner came up to serve us some incredible almond marzipan-like sweets).
Raghavan had to leave for the University where he was meeting some Turkish professors he had contacted over the internet. The rest of us strolled back to the Spice Bazaar, bought a few more things (nuts, olives, cheeses and miscellaneous gifts). I had a terrific fight with an olive seller who thought I had tasted far too many olives. We then took the tram back and met Raghavan at the hotel.
After that we walked down to our corner restaurant, Ortaklar İskander Kebap, for our final dinner. Said a fond farewell to our waiter friend, Nehjmuddin.
The next morning we decided to visit Arasta Bazaar once more, to buy some ceramics. Decided to skip Topakapi palace and keep it for our next visit (Inshallah, as the Turks would say). We returned to the hotel just to pack our bags and load them into the van, then trundled off to the airport.
We returned to Delhi in much better shape than we had left it, fit as fiddles and toasted to a nutty brown – darker than hazelnuts but lighter than walnuts, just the colour, in fact, of a perfect baklava.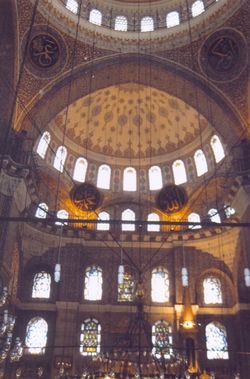 Blue Mosque, Istanbul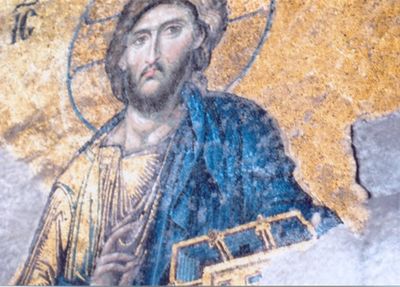 Aya Sofya, Istanbul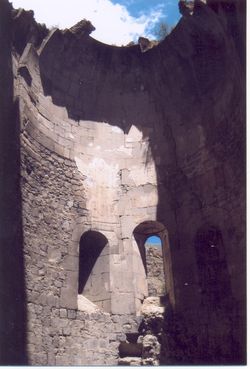 Cathedral, Oskvank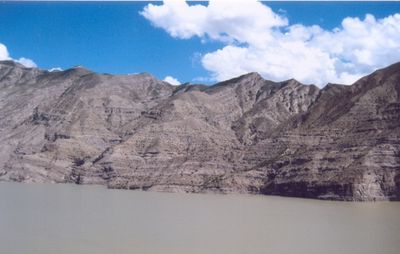 Tortum Golu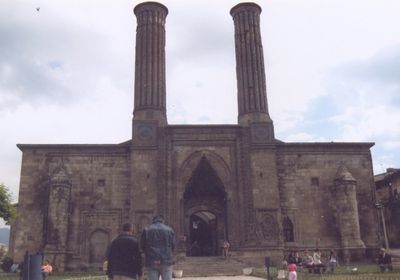 Seljuk architecture, Erzurum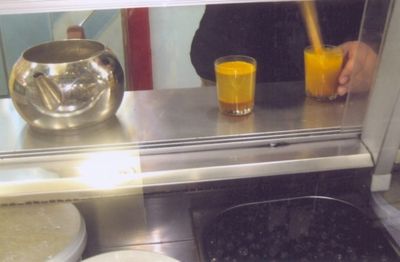 Pollen and honey drink, Erzurum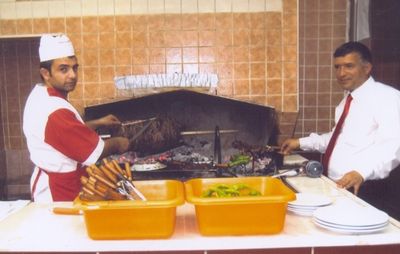 Meram Cag Kebap, Erzurum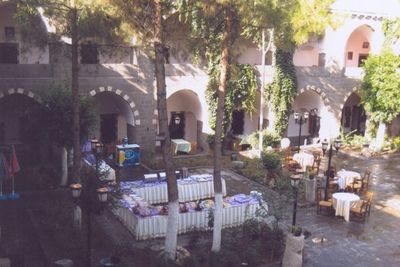 Otel Buyuk Kervensaray, Diyarbakir
Breakfast at Otel Buyuk, Diyarbakir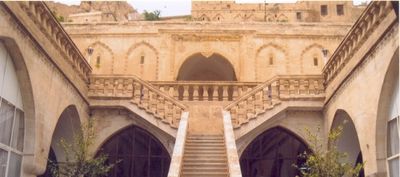 Post office, Mardin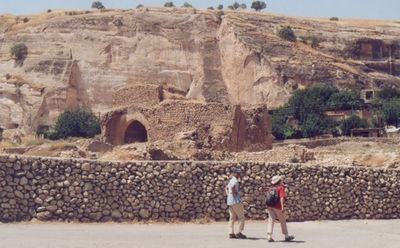 Hasankeyf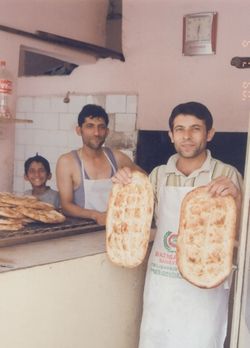 Baker at Hasankeyf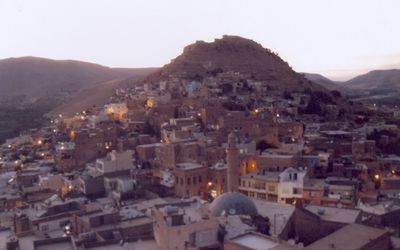 View from Savur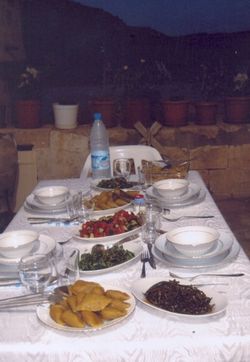 Dinner at Savur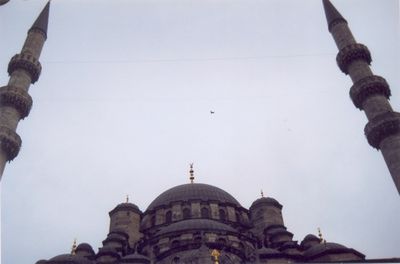 Farewell to Istanbul